MOBILE TOP-UP MARKET
In our global world, an enormous number of people has migrated from their native countries. In spite of vast distances between their old and new homes, migrants often maintain strong relationships with friends and family, even providing financial assistance in the form of top-up transfers, which enable everyone to stay connected via their pay-as-you-go mobile phone accounts. In many countries, the only way to do this is via Money Transfer Services. These are costly as well as cumbersome to deal with, especially in regard to mobile phone top-ups, since the money has to be redeemed before a pay-as-you-go voucher can be purchased.
Although very common in the US and the UK, the topic is not overly present in the German speaking markets, which tend to overlook and underrepresent the different migrant target groups. In Germany, Austria and Switzerland about 10% of the population has a migration background, and Transpaygo is focusing on the main migrant groups.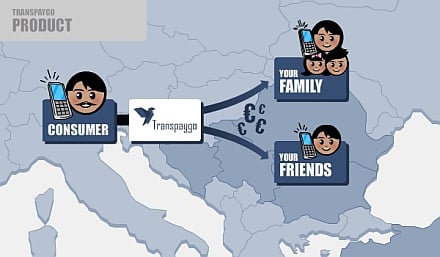 TOP UP MOBILE PHONES GLOBALLY
Transpaygo FonMoney is a Top Up Service with very low transaction fees and realtime transfer. Customers can buy vouchers in Germany, Austria and Switzerland and redeem the voucher code to top up their friends' and family's pay-as-you-go mobile phone numbers back home. Transpaygo connects to the mobile carriers in the target countries and operates a cooperative distribution network in the source countries.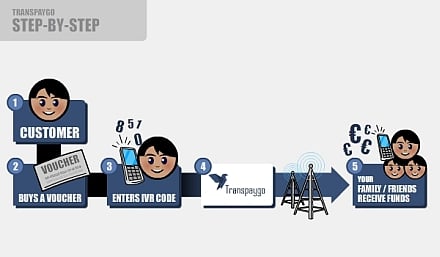 FONMONEY STEP-BY STEP
To use the top-up service, the customers first buy a voucher at a point of sale or online. The code on the voucher can be redeemed via an IVR phone hotline or entered on the Transpaygo website. Transpaygo's platform initiates the top-up process with the mobile operator in the target country. The recipients of the top up can use it to call, text and browse with their phones.
---
PROPOSITIONS FOR PARTNERS
Partners such as MNOs, Retailer, MVNOs and Online Affiliates can expect among other things to gain additional distribution channels, recurring business, improved customer retention rates as well as flexible branding. Transpaygo offers interesting Value Propositions for:
MNOs

Added value through additional distribution channel for pay as you go minutes in the German speaking countries. Higher ARPUs because of availability of additional funds from abroad.

MVNOs

Added value through innovative products, that lead to better customer retention and recurring business from the point of sale. High flexibility with several bundling and branding options.

Retailer

Added value through innovative products, that lead to better customer retention and recurring business from ethnic costumers. Easy sale through straightforward pricing and simple use case.

Online Affiliates

Added value for the vistors with an easy integration. Offer them the possibility to top-up cell phones internationally.
---
THE TRANSPAYGO TEAM - EXPERTS WITH A TRACK RECORD
Mirko Kinigadner

CEO

• CoFounder and Executive Management of 3united AG

• CoFounder TheMerger a start-upadvisor and incubator

• Advisor to various Mobile and Internet Startups

Christian Peidelstein

Head of Product

• Former Head of Product 3united and Director VeriSign

• Product and Project Management for flimmit.com

• International Mobile Service Provider product expert

Andreas Wiesmüller

Advisor

• CoFounder and Executive Management of 3united AG

• Business Angel with several investments in technology and media space

• Founder of "Ethnopinion" and migrant magazine "dasBiber"
Georgi Penev from Innovasys is maintaining the Transpaygo Topup Platform.